It's another Mingle Monday over at
Life of Meg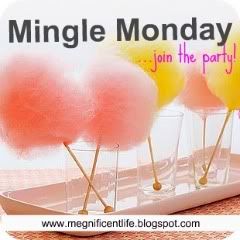 Her question this week -
what's your favorite Olympic event?
This is pretty fitting since I watched about 12 hours of DVR'd Olympics yesterday. I was TOTALLY taken by the US Archery team who, after ousting the defending Gold Medalists (South Korea), were CENTIMETERS from an Olympic gold. Here's to the team that got the first US medal of the Olympics!
I think my favorite event, one of the only ones I watch from the start of the Olympics to the Gold, is beach volleyball. I love Misty May and Kerri Walsh (yes, I know they each have another last name). They are amazing... they are a great team... and the genuinely look excited to be there, which I love even more because of the fact that they have NEVER lost an Olympic set and they are STILL excited!
I know they weren't supposed to be there together this year, but I am so excited to see them out on the sand, one last time!!
I'm not completely caught up with all of my DVR'd stuff, but hopefully I can get caught up soon so I'll be on the same page as everyone else :)
Happy Monday!!!