I was visiting my blog buddy Stephanie over at
The Vintage Modern Bride Wife
and at the end of her post, I found a really interesting button.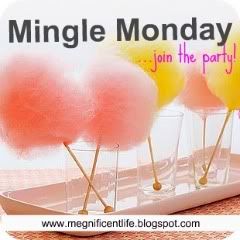 I clicked on the button and I was instantly taken to a fun new blog that was hosting Mingle Monday.
Despite the fact that I've been blogging for multiple years now, I am still far far away from being a blogging expert. I took a look at her post and visited some of the other blogs that are "participating" in Mingle Monday, and the whole idea of this mingling is AMAZING to me!!!
I'm always looking for new blogs and new blogging friends, so I'm hoping this creates some really great connections for me with some others in the blogging world.
So, check out the Life of Meg and join the party!!!