I actually got home at a decent time tonight, and as I was reading through the blogs I follow, I was SO excited by this week's Mingle Monday topic over on Life of Meg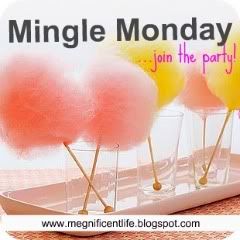 What fall activities are you most excited for??
There are SO many things I'm looking forward to and as I begin the hardest and most intense two weeks of my year, I can't help but be excited by the anticipation of being able to actually do some of these things once my work life settles down a little. So, here are my Top 5 things I'm looking forward to...
1. Football Season - Can't wait for my Longhorns to kick their season off... my expectations are fairly low this year (it could be a tough one for us), but I will watch any and all games I can get!!
I am kind of said that we're missing Texas/OU this year... it's something I look forward to, but just not something we can afford this year.
2. Fall Leaves - Fall is my favorite season and it's in large part because I love the colors that come with the changing season. I'm hoping we get some more consistent rain here so we have colors other than brown this fall... look how pretty my tree was last year!!!
3. A journey back to Chicago - we are kicking off our Fall (which I consider to be after Labor Day) with another trip to Chicago. We'll be there for a weekend, we're meeting J's friend from high school there, and we're going to see my cousin play against the Sky. I love Chicago and I'm really looking forward to our trip!!
4. Fall drinks - I love apple cider... not enough to drink it all year round, but as soon as fall hits, I'm ready for it!!! I feel the same way about pumpkin spice lattes... Starbucks gets much more business from me in the fall than any other time, that's for sure!!
5. Running - I don't do well in the heat, so I'm excited for it to cool down. I'd much rather run when it's 40 degrees than when it's above 80. I have had no motivation/desire to go run lately because I hate to run inside. I know I want to do a 10K next, since I haven't done one, but if we have a good fall/winter, there may be another half marathon in my future!!
A big thanks to Meg for getting my mind off of all the stuff coming up in my next two weeks and helping me look ahead to the great things to come this fall!!!